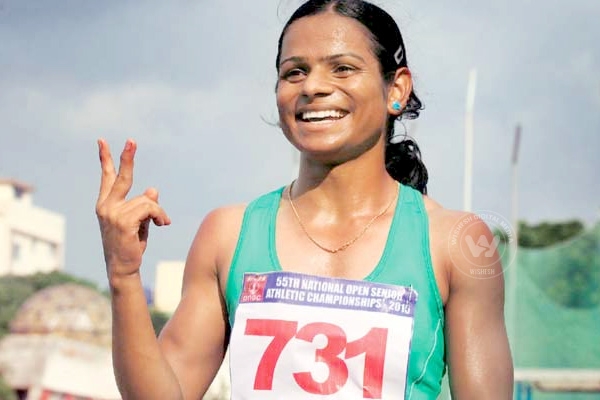 (Image source from: })
Dutee Chand, Indian sprinter, made a confident comeback after a successful appeal against a ban imposed on her after a so-called gender test. The19-year-old athlete won 100m gold in 11.68 seconds at the National Open Athletics Championships held in Salt Lake, India. Her win was a fraction more than her personal best.
Indian sprinter faced ban under hyperandrogenism policy of athletics. It found that the athlete had testosterone levels above permissible levels. In July, Chand appealed successfully at the Court of Arbitration for Sport.
After the win, Chand said, "I was under pressure, coming into this event - a little nervous as well".
"I didn't perform at my peak, for I knew I could get better. But this win will give me the confidence and now I can write to the sports ministry, requesting them to get me into the Target Olympic Podium (TOP) scheme for the 2016 Rio Olympics," she added.
Dutee Chand
Dutee Chand was born to a weaver couple on 3 February 1996. Third of the seven children is from Odhisha. In 2012, she became Indian national under-18 champion for 100m as she clocked 11.8 seconds. At 2013 Asian Games, she won a 200m bronze. She became the first Indian to reach a global sprint final at the World Youths.
The athlete claimed 100/200m double at Asian Junior Athletics Championship. Thus, the Athletics Federation of India was prompted to seek a gender test in July.
-Sumana