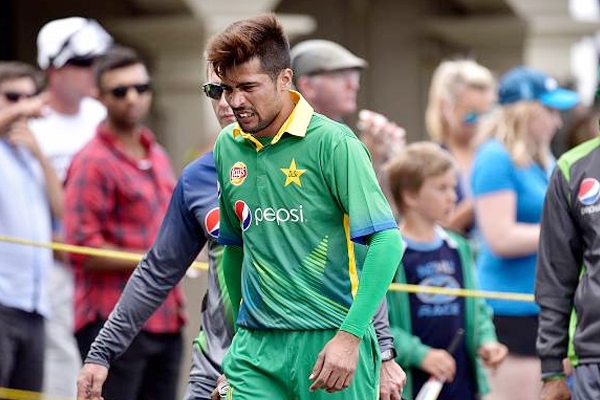 (Image source from: Amir faces crowd sledging after returning from spot-fixing ban})
On Monday, Pakistan's Mohammad Amir has returned from a five-year spot-fixing ban to play his first ODI against New Zealand, since June 2010. The day gave the 23-year-old, his best ever bowling spells with 3/28. In 2009, he had best spells like 4/28 and 3/24 in consecutive matches. However, the Kiwis scored 280 and won the game by 70 runs.
Amir had a better day as a comeback, as far as his bowling was concerned, but it would still remain as a scar at the back of his mind due to some other reason.
He faced the taunting pressure from a section in the crowd, as he ran to bowl his first spell in the match after almost six years. As the pressure took on him, he delivered a wide. He was found guilty of intentionally bowling wides and no balls, five years back.
When he walked to take his fielding position after he delivered his over, a person from the same section waved currency notes at him. The disturbed youngster was then rescued by his teammates.Senior and former captain Mohammad Hafeez was one of the first players to act. Hafeez with few other seniors reported the incident to the security in-charge of the Pakistan team. Then, the ground staff intervened, and eventually the individual was given strict warning.
Hafeez's act gained significance as he was the first one to voice against the comeback of the tainted fast bowler. He along with Azhar Ali had even boycotted the training camp of the Pakistan national team as Amir was recalled into the team. He always insisted that his harsh stand was to protect the 'image of Pakistan cricket'. Probably due to the same reason, Hafeez went to the rescue of his team mate in a Pakistan jersey, who was being sledged at.
-Sumana