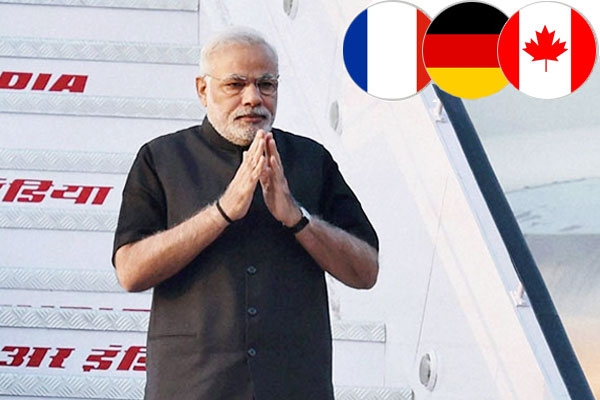 (Image source from: })
Indian Prime Minister Narendra Modi will be leaving for France today in part of three nation tour to France, Germany and Canada. The premier has stated that he would be concentrating on the friendly and prospective ties with these nations.
His tour will begin with France on April 10th. He is planning to meet the heads of state and hold extensive meetings and discussions to elevate the India-France relationship for bright future. He is likely to come across various economic related agreements, co-operation in different areas, and international situations prevailing in middle-east and Africa. He would also pay a visit to industrial centres outside Paris and also be visiting World War I memorial at Neuve Chapelle.
After concluding his France trip, he would be going in Germany on 12th (to 14th) where he is scheduled to meet the German Chancellor, Angela Merkel. They both would also be inaugurating the Hannover Messe, the largest industrial trade fair in the world. Germany is India's largest economic partner. His agenda would be to deepen the relationship between the future top countries.
The Indian PM will have Canada trip from April 15th- April 16th, where he would be hosted by Prime Minister of Canada, Stephen Harper. He is expected to have wide-range of meetings with Canada PM and other top leaders of the state. He is also planning to meet the top business leaders and industrialists in Ottawa and Toronto. Indian diaspora would get a chance to meet PM Modi in Canada.
-Kannamsai